Odor Control
Browse our full line of odor control commercial cleaning products that are perfect for your JanSan needs.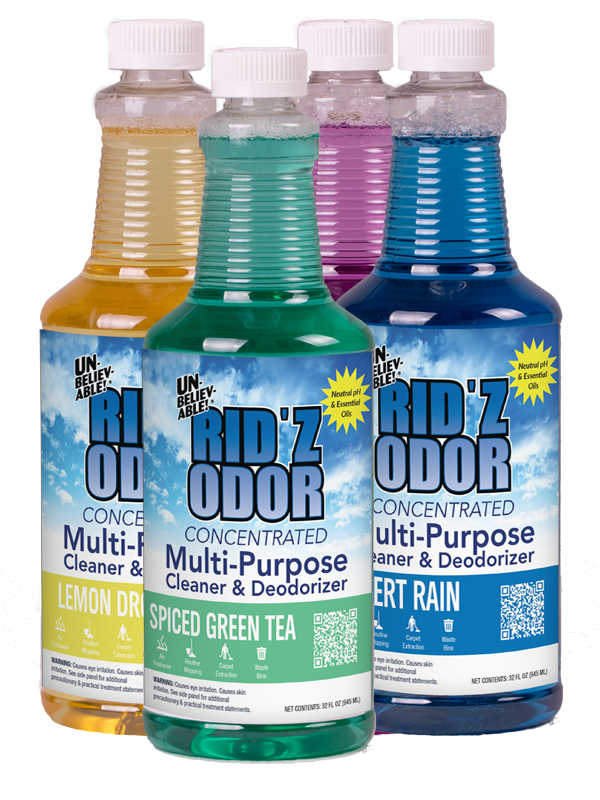 UNBELIEVABLE!® Rid'Z Odor Super
CONCENTRATED LIQUID DEODORIZERS
Contains quatinary ammonium.

Built-in odor counteractants encapsulate odor molecules and eliminate odors where they begin, not just cover them up.

No soapy, slippery residue after cleaning

Super concentrate- 1/2 oz. per gallon

VOC compliant
Not sold in CA
Available Fragrances
Desert Rain, Dream-Cicle Orange, Wild Wild Cherry, Lemon Drop, Island Floral, Red Hot Cinnamon, Mango Tango, Bamboo, Spiced Green Tea, Lavendar, Honeysuckle
PRODUCT USAGE
Routine damp mopping

Deodorizing

Carpet shampooing deodorizing

Rinse water

Hand spraying or misting

Portable toilets
DIRECTIONS
Rid'z Odor™ Concentrated Multi-Purpose Cleaner & Deodorizer uses built-in odor counteractants that encapsulate odor molecules to eliminate odors where they begin, not just cover them up. Will not leave soapy, slippery residue behind after cleaning. Neutral pH will not dull shiny surfaces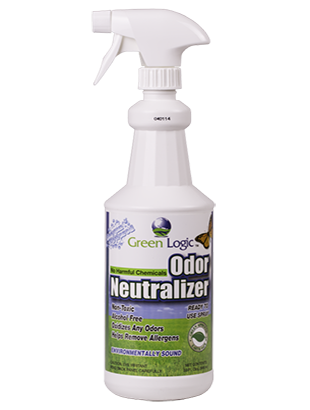 GREEN LOGIC™ ODOR NEUTRALIZER
ALCOHOL-FREE | BOTANICAL FRAGRANCE | PLANT DERIVED
Green Logic™ Odor Neutralizer – Alcohol & Ammonia Free
Oxygen action with surfactant bonding eliminates organic odors.
Smoke, food, beverages, even pet odors on any surface disappear.
A neutral pH is safe for most sensitive fibers. No sticky residue is left behind.
Helps remove indoor allergens, which results in better indoor air quality.
 Not sold in CA
Specifications
Ready-To-Use Sizes: 32 oz Spray, 1 U.S. Gallon, 5 Gallon Pail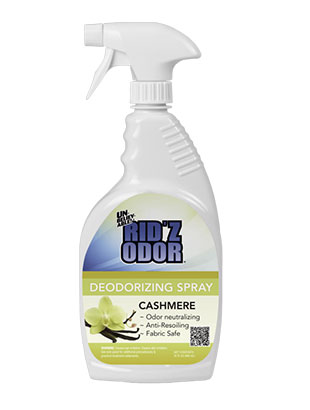 UNBELIEVABLE!® RID'Z ODOR DEODORIZING SPRAY- SPRING FRESH
Powerful, yet carpet-safe formula that works naturally to remove tough odors from carpet, upholstery, fabrics and more. 
Odor neutralizing agents penetrate and eliminate foul odors caused by urine, 
feces, and vomit. 
Anti-resoiling formula leaves no sticky residue.
Available Fragrances
Spring Fresh
Cashmere
Citrus Blossom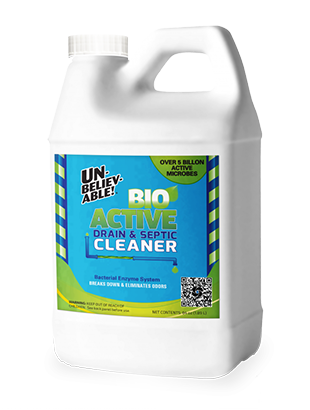 UNBELIEVABLE!® BIO-ACTIVE DRAIN CLEANER
PROFESSIONAL STRENGTH | ENZYME DRAIN & SEPTIC CLEANER
Bio-active drain cleaner restores billions of the biological population of good worker
bacteria and enzymes. Professional strength grease trap cleaner and commercial drain
opener.
Commercial drain cleaner for slow draining sinks and lines.
Keeps grease traps & drains flowing
Enzyme drain opener cleans the pipes before the grease trap, grease trap & pipes leaving the trap.
Eliminates offensive odors
Safe on pipes & plumbing.
Product Code: UBAC